Rebound Beat is a new type of music and rhythm game that makes you control rhythm on an entirely different level.
Compose intricate beats by setting up your perfect miniature drum world!

Welcome to a world where drums float and pachinko-sized balls fall from above. In this world THERE ARE NO DRUMSTICKS in sight. Your only option is to adjust the angles of the drums so that the balls rebound onto other drums to create proper beats. The rhythm must flow!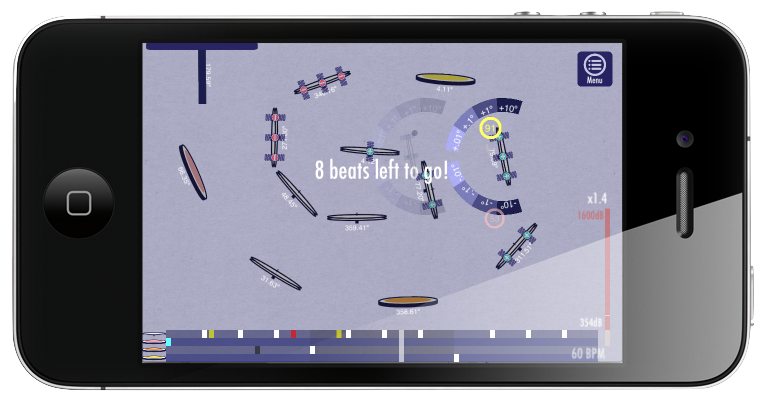 Getting the drums set up to form a coherent beat is only the beginning. How many bars can you handle after the initial one? There are many different ways to pass each level, and just as many different preludes to the ultimate beat you create. Making the perfect beat means bouncing at the right angle. Once you get there, the amazing continuous collision detection based physics engine and the custom audio mixer will give you just what you wanted to hear.
Features
Support for iPhone 5 and iPad 3, as well as earlier devices
Buttons sounds make you feel like you are on a spaceship
30 increasingly complex levels, 10 free for trial.
Save and Load
Top Score and Ranking (offline)
Game Center scoreboards to compete on
Real, Actual Reverb when you win
Free Updates
Special Thanks
Being an indie game dev means working and depending on people outside the company. These two professionals provided excellent service that contributed to Rebound Beat.  If you are looking for a graphic artist or voice artist, check them out!
Support and Feedback
Want help, or want to help Rebound Beat become even better?  Let us know what you would like by contacting support@roughsoft.com.  We take questions and comments seriously.